The Demand
The Demand written by Neil Edwards and directed by Emily Bignell, was produced as part of the 2017 Gainsborough Literacy Project. Shooting Fish work with young people to write and co-produce new work with the support of professional artists. The young people involved are not in full-time education, training or employment, or are struggling with mainstream education because of learning and/or behavioural difficulties and additional literacy needs.
The Demand was performed at Trinity Arts Centre, Gainsborough in May 2017.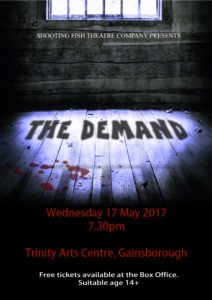 Synopsis
After discovering his son has been kidnapped by the enigmatic Mister 'E', wealthy bond trader Samuel Tiptree knows that if he's ever to see his son alive again, he's going to have to give the kidnapper what he wants.
But when money isn't enough, what else is there to trade?